Saturday 3rd November, 2018

Join Northern Rivers Tours in celebrating Graftons oldest family floral event in Australia.
On Saturday 3rd November, Travel in comfort, and arrive in time to have a tour around the towns most beautiful gardens and jacaranda trees.
We will depart Lismore Departing Lismore Transit Centre at 12.30pm, then Alstonville Coach Stop Main Street Outside Century 21 departing at 12.50pm, then departing Ballina Tamar Street Bus Interchange at 1.05pm.
Arriving at approximately 3pm we will spend 90minutes viewing the towns jacaranda trees and gardens.
Then relax and take in the sights of the Jacaranda Float Procession from 5 – 6pm, a colourful display of floats created by local businesses, community groups and schools.
We will end the day with the River FEAST, a great event featuring amazing food, wine, beer and live music.
Enjoy a restful trip home, maybe even have a nap after your Grafton adventures, Departing Grafton at 8.15pm we will return to Ballina at 10.05pm, Alstonville at 10.20pm and Lismore at 10.40pm.
Tickets to travel return to the Grafton Jacaranda Festival with Northern Rivers Tours are just $35. For more information on the Jacaranda Festival events we will be attending read on below, or click here to contact us for more information. Alternatively, if you are excited and ready to book now, please go to our shopping cart and follow the steps to book your seat now.
Terms & Conditions:
Payment is required at the time of booking.
For cancellations of bookings of 1-3 seats, we must be advised in writing of your cancellation 72 hours prior to departure to receive a full refund.
For cancellations of bookings of 4 or more seats, we must be advised in writing of your cancellation 5 full working days prior to departure to receive a full refund.
Cancellations outside of these timeframes will not be eligible for any refund.

Float Parade - Prince Street Grafton
A colourful celebration of Jacaranda spirit
Watch as Grafton's CBD comes awash with a riot of colour and sound for the annual Float Procession down the main street of Grafton.
Consisting of approx. 60 clubs, schools and local organisations – each parading vehicles decorated to the theme of 'purple'.
Stay afterwards and enjoy the "Jacaranda Festival Feast" event at Memorial Park, River end of Prince Street.
Time: from 5pm onwards
FREE to watch

Jacaranda River Festival Feast
Memorial Park, River end of Prince Street
Feast, is an event for the tastebuds! Enjoy locally crafted beer and wine, delicious locally sourced produce and listen to the sounds coming from the Riverbank's stage. During the evening, the lucky winner of the Festival's major raffle will be drawn. The Feast event will pause whilst the Float Parade makes it journey down Prince Street and then will recommence once finished, Approx 6pm.
A night to enjoy and relax after your week of Jacaranda fun and festivities. Enjoy gourmet foodie truck heaven, brought to you by The Design Collective as recently featured at the Yamba Golf & Country Club event.
Time: from 3pm onwards
Cost: Gold Coin Donation & paid VIP ticketed experience section. available
Entertainment lineup will be announced in the coming months!
Jacaranda Open Gardens
Various Locations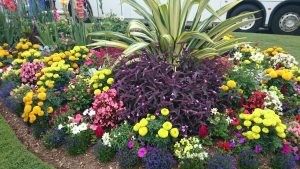 Browse residential & commercial gardens in the Clarence Valley!
Private and Commercial gardeners have a chance to showcase their beautiful work over the 9 day Jacaranda Festival. A gorgeous collection of gardens from bush landscapes, gardens full of fragrant roses to modern environments. Don't forget to take in Grafton's avenues of lilac blossomed – Jacaranda Trees! Locations will be announced closer to the Festival.
9AM TO 5PM DAILY
**Some gardens may have an entry fee to visit and view, please check back in with the website closer to your planned visit.**